Social data on human wildlife conflict in ten rural communities of Marrupa, Northern Mozambique
This dataset includes the transcript of discussion group activities on Human Wildlife conflict, conducted with ten rural communities in Marrupa District, Niassa (Northern Mozambique). It also comprises the results of semi-structured interviews conducted individually in three of the ten selected communities. The ten villages were selected from a forest cover gradient running from villages with a higher forest cover to those within degraded forest areas and consequently low cover. The villages had similar infrastructure, soils, rainfall, and vegetation types. The dataset contains information on the occurrence of conflict with both vertebrate and invertebrate wild species, mitigation strategies, conflict seasonality and trends, but also its impact on agricultural production and livestock rearing. The discussion groups were conducted with six to ten people and the presence of the leader of each village, between May and July 2015. Data were collected as part of a project funded under the Ecosystem Services for Poverty Alleviation (ESPA) programme. Full details about this dataset can be found at
https://doi.org/10.5285/7bd2e230-c219-4017-9914-b5cfd83a4eae
 

Citation proposal
Carvalho, M. (Eduardo Mondlane University) - Lupera, F. (Universidade Lúrio) - Nhamussua, R. (Universidade Lúrio) - Lisboa, S.N. (Eduardo Mondlane University) - Ryan, C. (University of Edinburgh) - Ribeiro, N. (Eduardo Mondlane University) - Environmental Information Data Centre (2017) . Social data on human wildlife conflict in ten rural communities of Marrupa, Northern Mozambique. NERC Environmental Information Data Centre https://data-search.nerc.ac.uk:443/geonetwork/srv/api/records/7bd2e230-c219-4017-9914-b5cfd83a4eae
Simple
Date (

Publication

)

2017-01-31
Date (

Creation

)

2015-07-31
Identifier

doi: / 10.5285/7bd2e230-c219-4017-9914-b5cfd83a4eae
Other citation details

Carvalho, M., Lupera, F., Nhamussua, R., Lisboa, S.N., Ryan, C., Ribeiro, N. (2017). Social data on human wildlife conflict in ten rural communities of Marrupa, Northern Mozambique. NERC Environmental Information Data Centre 10.5285/7bd2e230-c219-4017-9914-b5cfd83a4eae
Maintenance and update frequency

notPlanned

Not planned
Keywords

wildlife , conflict , crops , agriculture , NE/K010395/1 , ACES , ESPA programme
Access constraints

otherRestrictions

Other restrictions
Use constraints

otherRestrictions

Other restrictions
Use constraints

otherRestrictions

Other restrictions
Other constraints

If you reuse this data, you should cite: Carvalho, M., Lupera, F., Nhamussua, R., Lisboa, S.N., Ryan, C., Ribeiro, N. (2017). Social data on human wildlife conflict in ten rural communities of Marrupa, Northern Mozambique. NERC Environmental Information Data Centre https://doi.org/10.5285/7bd2e230-c219-4017-9914-b5cfd83a4eae
Spatial representation type

textTable

Text, table
Metadata language

English

English
Character set

utf8

UTF8
Topic category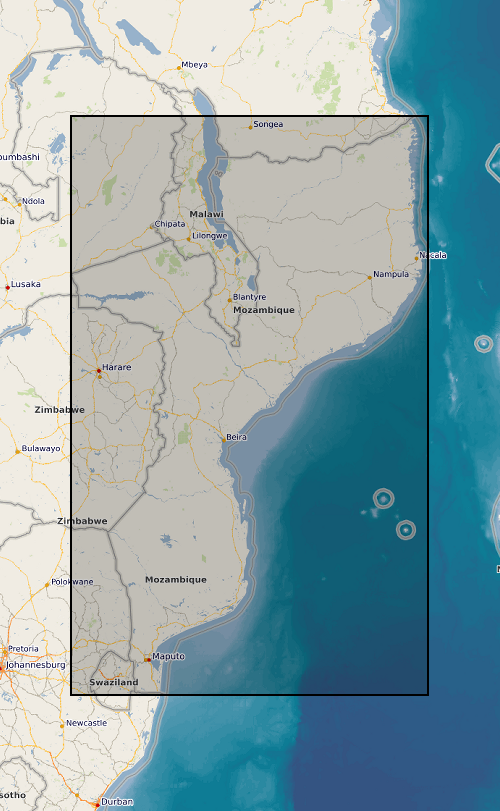 Distribution format

Comma-separated values (CSV) ()
OnLine resource

Download the data  

Download a copy of this data
OnLine resource

Supporting information  

Supporting information available to assist in re-use of this dataset
Hierarchy level

dataset

Dataset
Other

dataset
Conformance result
Date (

Publication

)

2010-12-08
Statement

Interviews were collected with trained personnel and data collected via individual ODK (Open Data Kit) files on electronic tablets. No amendments were made to the data after collection except for some responses which had text converted to numeric codes for analysis.
gmd:MD_Metadata
File identifier

7bd2e230-c219-4017-9914-b5cfd83a4eae  

XML
Metadata language

English

English
Character set

ISO/IEC 8859-1 (also known as Latin 1)

8859 Part 1
Hierarchy level

dataset

Dataset
Hierarchy level name

dataset
Date stamp

2020-09-22T10:17:00
Metadata standard version

2.3
Provided by
7bd2e230-c219-4017-9914-b5cfd83a4eae
  Access to the portal
Read here the full details and access to the data.
Associated resources
Not available